HISTORY

History
1. Founder of the School: Edwin Sandys, Archbishop of York (1519-1588).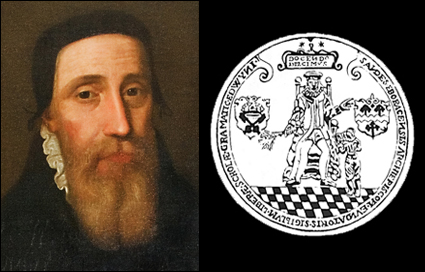 Edwin (also spelled Edwyn) was born in 1519 at Esthwaite Hall, which is one mile south of Hawkshead on the road to Newby Bridge. The Hall nestles in the valley and overlooks Esthwaite Water. Today it is still a family home, although the Sandys family now reside in the grander Graythwaite Hall a few miles further south. The Sandys family have held lands in Cumbria since the 13th century.
It is believed that young Edwin received his early education at Furness Abbey.
From there he went up to St John's, Cambridge, graduating BA in 1539 and then a Doctor of Divinity ten years later. In 1547 he was elected master of Catherine Hall and by 1553 he was Vice Chancellor of the University.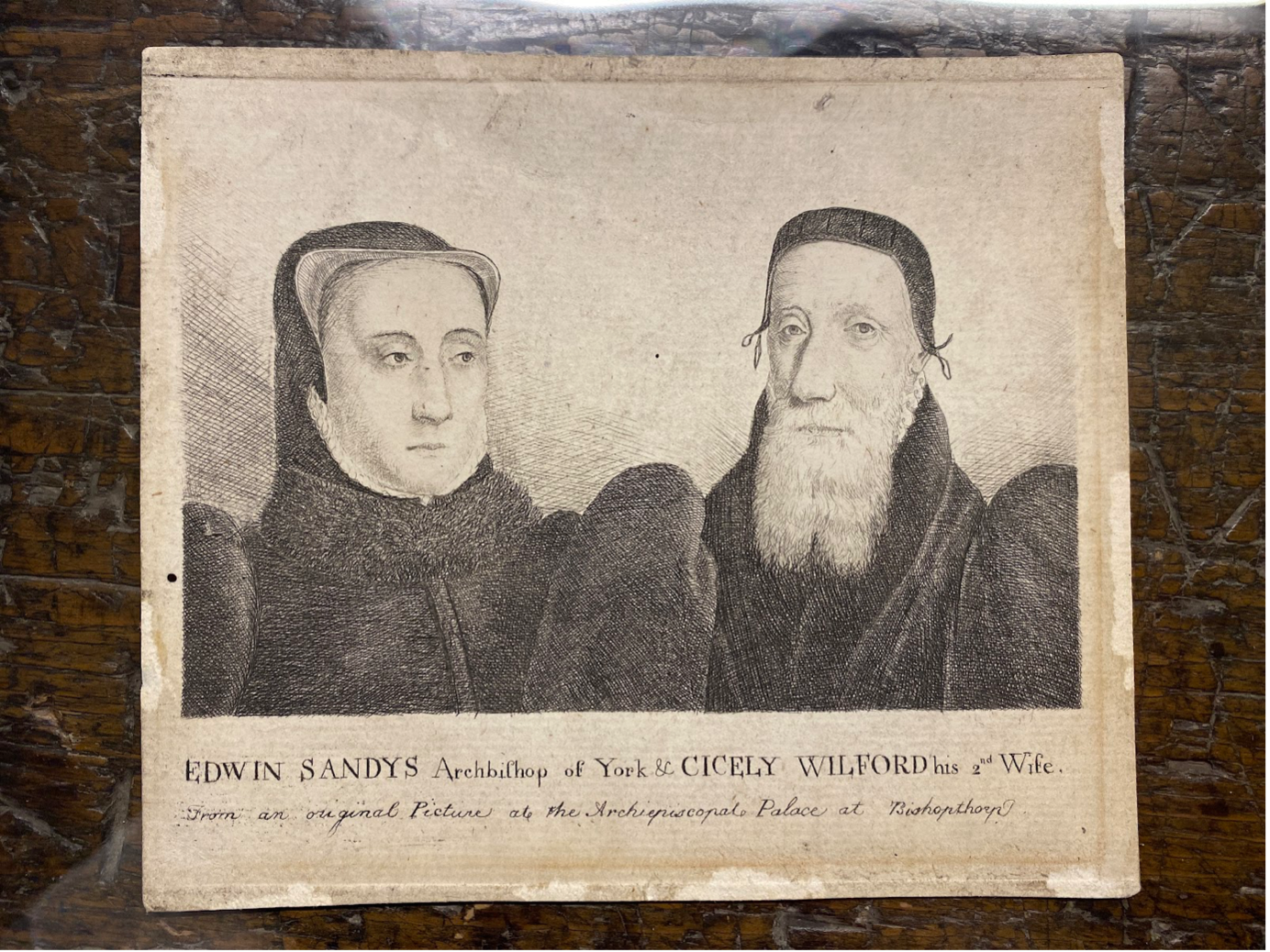 On the death of King Edward VI, the Duke of Norfolk sought to preserve a Protestant monarchy by illegally placing Lady Jane Grey on the throne. He and his followers arrived in Cambridge to raise an army in East Anglia and demanded that Edwin Sandys preach a sermon.
When the rebellion failed and Mary Tudor took the throne, Edwin was arrested and taken to the Tower of London. For this, he is mentioned in Foxe's Book of Martyrs. Later, he was moved to more comfortable conditions in the Marchalsea Prison, where he made friends with the prison keeper who connived at his escape.
He went first to Antwerp, then onto Augsberg and Strasbourg where his wife joined him. His wife and infant son died there of a plague. He then lived in Zurich until the ascendancy of Elizabeth I made it safe for him to return to England. On his return he became successively Bishop of Worcester, Bishop of London and Archbishop of York.
He helped in the translation of a new version of the bible (the Bishop's Bible). Sandys own personal copy may be seen in the Grammar School Museum. Along with other Marian exiles who returned to positions of wealth and importance, Archbishop Sandys was concerned that true religion and sound learning would forever flourish in the land. They saw the necessity of education for religion's sake and the need for Protestants to hold their own in discussion with Catholics. To these ends, Edwin Sandys founded Hawkshead Grammar School in 1585, and endowed it with sufficient land and property for it to offer a free education.
_____________________________________________________________________________________________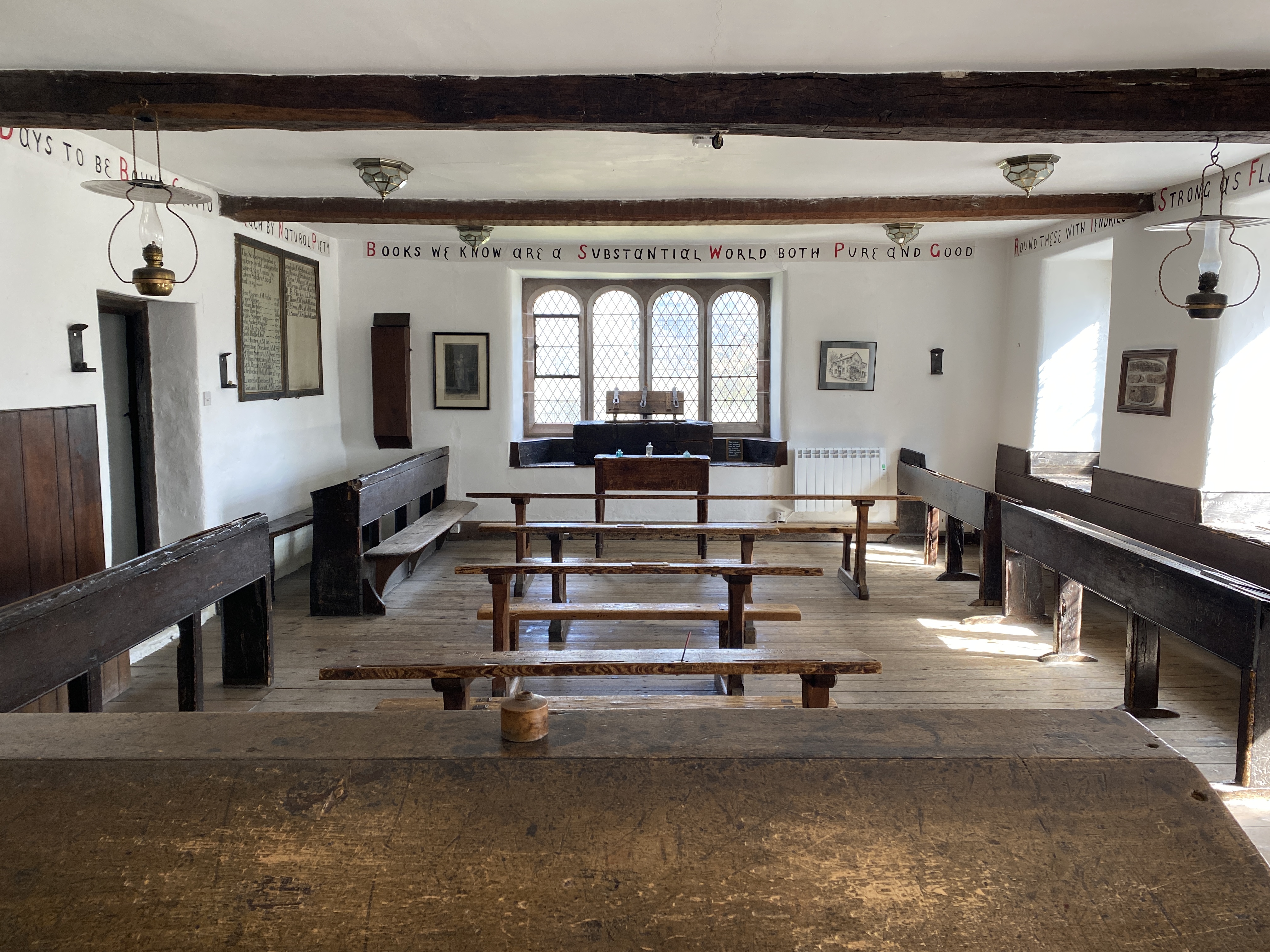 2. Hawkshead Grammar School
Founded in 1585, Hawkshead Grammar School taught grammar (Latin grammar) and the principles of the Greek tongue and other sciences necessary to be taught in a grammar school. The sciences included arithmetic and geometry sufficient to meet the practical needs of the businessman, surveyor, or navigator. Ancient history was taught through the classics, and Latin was the medium for modern history. It almost goes without saying that church attendance was compulsory.
Many Tudor grammar schools were put under the control of the Town Council, but Hawkshead had no such body and so the Archbishop petitioned Queen Elizabeth I for a charter to set up a governing body. The charter was granted on 10th April 1585, and it can be seen in the Museum.
Also in the museum is the original silver seal (see image above) which shows the school master with a birch in his hand – the normal instrument for inculcating obedience at that time. The first headmaster was Peter Magson MA. He was paid £20 annually and his assistant (the usher, who taught lower forms) was paid just £3 6s 8d. Appointments to headmaster had to be approved by the Bishop of Chester.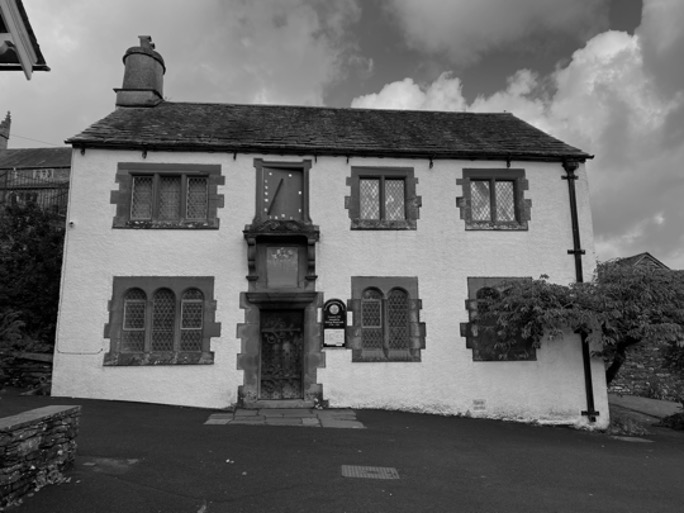 Between Lady Day (25th March) and Michaelmas (29th September), school would commence at 6:00am and continue until 11:00am. It resumed at 1:00 pm until 5:00 pm. In the winter (from Michaelmas to Lady Day) it started at 7:00am until 11:00am and then resumed from 1:30pm until 4:00pm. Long days indeed when taught in Latin and Greek!
In 1675, the School was rebuilt by Daniel Rawlinson of London (where he was a vintner) and of Grizedale Hall. There were frequently 100 pupils. Those from beyond Hawkshead (pupils came from all over the North because of the School's reputation) were expected to pay 2 guineas entrance fee again at Shrove Tuesday (cockpenny). Writing and arithmetic were extra. Many pupils went up to Cambridge or Oxford.
An 1804 report states, "The establishment, convenience and accommodations for youth are well calculated to answer completely the wishes of parents who equally tender the health, morals and liberal principles of their children". Nevertheless, the 19th century was not a prosperous one for rural England. Hawkshead itself was in a slow decline, having been bypassed by the railways. Imported corn from America caused agricultural rents to fall and so the income from the School's Yorkshire estates fell.

Despite this, the decade up to the tercentenary in 1885 saw the building of the gymnasium (now a pair of cottages opposite the school). However, in 1891 the school had a new constitution, with an upper and lower school, the latter being the forerunner of the present primary school. Resources were concentrated on the upper school but it was by then unable to prepare students for university. It could only offer to prepare them for the larger public schools or the Oxford and Cambridge local examinations (a kind of GCSE).
In truth, after 1891 the School was in decline. This was hastened by the 1902 Education Act which enabled County Councils to run secondary schools. Lancashire set up Ulverston Victoria Grammar School under this act. In 1909, Hawkshead Grammar School closed.
_____________________________________________________________________________________________
3. Notable Headmasters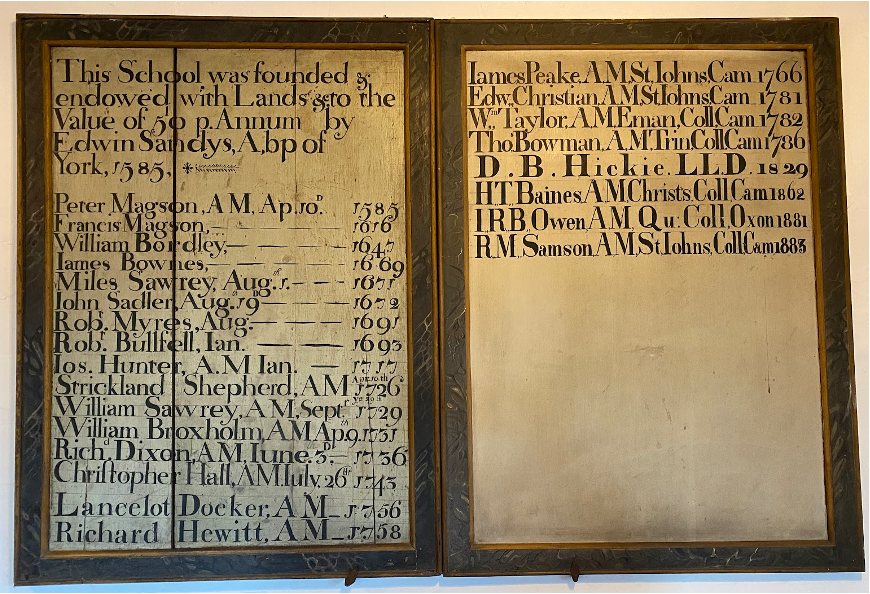 One short lived headmaster was Edward Christian, brother of Fletcher of 'Mutiny on the Bounty' fame. He arrived in 1781 and stayed only a year, then returned to Cambridge as a Don.
Dr Daniel B. Hickie became headmaster in 1829. He produced many editions of classical works and comprehensive Latin grammar which was much used in schools. However, in 1843 he was brought before magistrates for having 'got with child a certain Margaret Braithwaite, aged 19, a servant in his household' and an affiliation order was made against him. Archbishop Sandys statutes provided for dismissal for any ill, notable vice or criminal act, providing the governors'could gain the assent of the Bishop of Chester. However, the Bishop said he could not remove the headmasters' licence to teach unless Hickie was first convicted in an ecclesiastical court. The Bishop did not think the outcome of such a case would be by any means certain because Dr Hickie had not offended against any of the pupils in his charge. In the event Dr Hickie remained headmaster until 1862.
_____________________________________________________________________________________________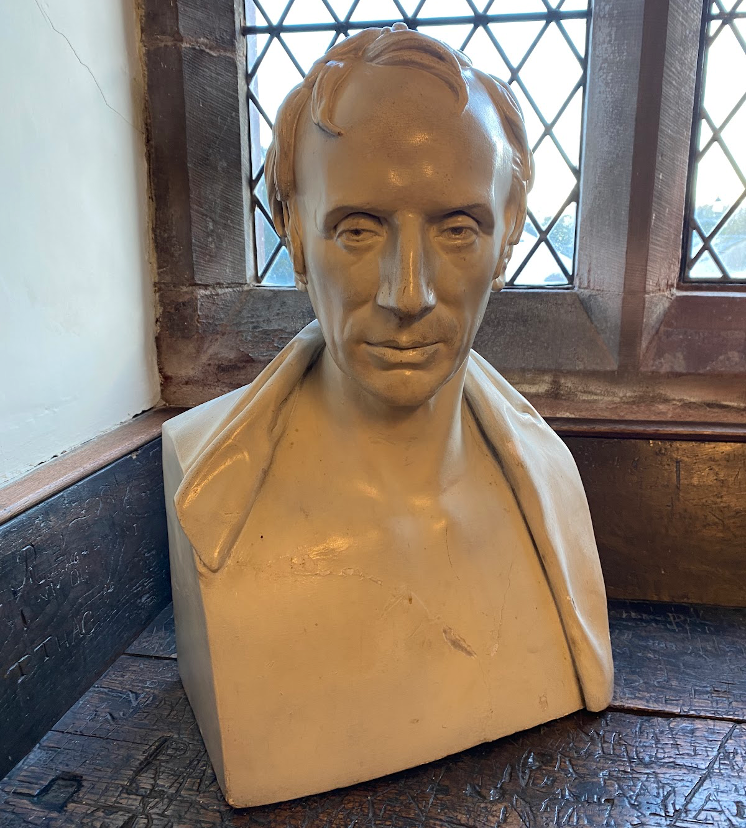 4. Famous Scholars
The habit of carving one's name in the surface of the School's wooden desks was popular among the pupils, and among those still visible today is that of William Wordsworth, Poet Laureate.
In his autobiographical poem, The Prelude, William Wordsworth recounted his school-days in Hawkshead, skating on Esthwaite Water and waiting for his father's horses.
Dr Christopher Wordsworth was Master of Trinity College, Cambridge. (He was William Wordsworth's brother). He published a six-volume Ecclesiastical Biography.
Dr William Pearson LLD, FRS, FRAS was co-founder of the Royal Astronomical Society. Pearson was from Whitbeck, Cumbria and attended Hawkshead Grammar School. He then worked at the school before moving to Lincoln to take a job at a school there. Around his teaching work, he gave public lectures and designed scientific instruments.
Dr Joshua King was President of Queens' College, Cambridge. Originally from Lowick, Cumbria, he studied at Hawkshead Grammar School before attending Cambridge University. At Cambridge University, he was recognised for his abilities in Mathematics.
Lord Brougham (1778-1868) Lord Chancellor of England.
Edward Baines, politician and newspaper proprietor.
_____________________________________________________________________________________________
5. Governors
The 1585 governing body is the same body which runs the foundation to this day, still chaired by a member of the Sandys family after 400 years! The fact that it has survived so long is testimony to the foresight of its creator and continued patronage of the Sandys family.
As can be expected over such a long history, the governors did not always make good decisions, and sometimes (as in the case of Dr Hickie) they were thwarted by circumstances. Ultimately, the decline of the school matched the decline of Hawkshead itself. As well as hiring headmasters, the other role of the governors was to look after the property assets and see to the revenues. The Archbishop had endowed the School with property not only in Hawkshead but also in Kendal, Wakefield and near Doncaster. These scattered properties caused the seventeenth century governors expenses and hardships as they rode around haggling with tenants and seeing to repairs.
Civil wars made travel impossible at times and there were arguments with the schoolmaster who was the beneficiary of these emoluments. So the practice grew up of associating the headmaster with these transactions. Eventually, the governors acquiesced to the headmaster receiving the whole of the estates income and managing them himself. As a result, the headmaster drew an annual salary of £160 in 1818 and £146 in 1819, when the headmasters of St Bees got £50 and that of Lancaster Grammar £70.
There are some other examples of slack administration, and of particular note is that in 1720 they leased the Sun Inn to George Walker for a down payment of £90 and an annual rent of 12 shillings. The lease was for 99 years renewable by his successors and assigns for a total 1000 years!
_____________________________________________________________________________________________